About the Australian Consulate General Shanghai, China
Mr Dominic Trindade
Australian Consul General, Shanghai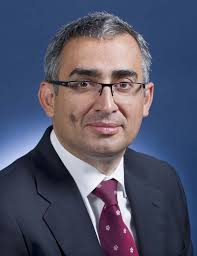 Mr Trindade is a senior career officer with the Department of Foreign Affairs and Trade (DFAT). He commenced in Shanghai as Consul General in July 2019.
Mr Trindade was most recently Assistant Secretary, Services Investment and Intellectual Property Branch (2018-2019). He has previously served overseas as Consul General, Australian Consulate-General, Guangzhou (2014-2018); Deputy Permanent Representative, World Trade Organization, Geneva; and Deputy Head of Mission, Australian High Commission, Singapore. In Canberra, Mr Trindade has held a number of senior roles in legal and trade policy and negotiations.
Mr Trindade holds degrees in Law and Arts (Asian Studies) from Melbourne University, and a Graduate Diploma in Foreign Affairs and Trade from Australian National University. He speaks Chinese and is married with three children.
Visa, Immigration and Citizenship Enquiries
Consular & Passports Enquiries
Commercial Enquiries - Austrade
Level 21 CITIC Square
1168 Nanjing Road West, 200041
Tel: +86 21 6103 5656
Fax: +86 21 6321 1222
Email: china@austrade.gov.au
Opening Hours
Consulate - CITIC Square
Consulate opening hours: 8:30 to 17:00 Monday to Friday.
For Passport applications: Appointments only - Monday to Friday.
For Notarial services: Appointments only - Tuesday to Thursday afternoons.
Visa office - CITIC Square
Consulate Public Holidays
| | | |
| --- | --- | --- |
| Wednesday | 25 December 2019 | Christmas Day |
| Thursday | 26 December 2019 | Boxing Day |
| Friday | 27 December 2019 | Additional Day |
| | | |
| Wednesday | 1 January 2020 | New Year's Day |
| Monday | 27 January 2020 | Chinese New Year |
| Tuesday | 28 January 2020 | Chinese New Year |
| Wednesday | 29 January 2020 | Chinese New Year |
| Friday | 10 April 2020 | Good Friday |
| Monday | 13 April 2020 | Easter Monday |
| Friday | 1 May 2020 | Labour Day |
| Thursday | 25 June 2020 | Dragon Boat Festival |
| Thursday | 1 October 2020 | Chinese National Day |
| Friday | 2 October 2020 | Chinese National Day |
| Monday | 5 October 2020 | Chinese National Day |
| Thursday | 24 December 2020 | Christmas Eve |
| Friday | 25 December 2020 | Christmas Day |
| Monday | 28 December 2020 | Additional Day |
Australian Embassy and Consulates Contact Information
Australian Consulate General, Guangzhou
Australian Consulate General, Chengdu